Gruber Siegfried
Begin of page section: Contents: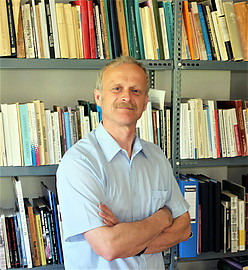 I mainly deal with historical demography, household structures and patriarchal structures in Southeast Europe and in European comparison. In this context, the household structures of older people are of particular importance because they indicate patriarchal power relationships and intergenerational coexistence and should be better examined by the older generation.

Keywords: statistics, demography, households, patriarchy
Siegfried Gruber studied history and folklore at the University of Graz (graduated in 1995) and in 2004, completed his doctorate with a dissertation on CVs and household types in Serbia in the 19th century. In 1995, he was on a study stay at the University of Minnesota in Minneapolis. his further research stays took place at the Max Planck Institute for Social Anthropology in Halle (Saale) and the Max Planck Institute for Demographic Research in Rostock from 2008 to 2013.


Since 1993, he has been involved in various research projects at the University of Graz. These research projects mainly deal with household structures and historical demography in Southeast Europe, but also with current family networks and help/support within these networks (EU project "Kinship and Social Security").
End of this page section.
Go to overview of page sections.