Hartinger Teresa
Begin of page section: Contents:
Dissertation: Contemporary Austrian Literature on Age/ing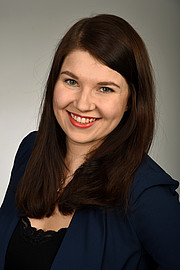 My dissertation project focuses on contemporary works of the Austrian literary landscape with regard to their representation of age/ing. In the course of this, a critical examination of age stereotypes will be carried out in order to provide a new perspective on old age.
Keywords: literature, Austria, age/ing, stereotypes
Teresa Hartinger is a doctoral student and research associate at the Department of American Studies. She is a member of the Age and Care Research Group Graz and is responsible for the project management of the research project "App-solute News". She completed her teaching degree (Mag.) in German and History at the University of Graz, Austria, and taught German as a Second Language at ISOP Graz during and after her studies (2016-2020). In her dissertation she deals with contemporary Austrian literature and examines it from the perspective of ageing.
End of this page section.
Go to overview of page sections.
Begin of page section:
Mag.
Teresa
Hartinger
Center for Interdisciplinary Research on Aging and Care
Attemsgasse 25/II
A-8010 Graz
End of this page section.
Go to overview of page sections.